We gave you a little teaser last week about or DIY Wednesday post today and it is finally here! We have been drooling over the gorgeous cupcake pops that have been decorating desert tables at some of the swankiest parties. Now you can make them yourself and show everyone what a Swanky Hostess you are!
This DIY is from
Sandy a la Mode
and the yummy blue and white cake pops she made for her nephews first birthday we featured last week.
Ingredients:
Red velvet cake mix
16 oz. can cream cheese frosting
Colored candy melts
Lollipop sticks
Directions:
1. Make your own red velvet cake from scratch or buy a box from store and follow directions on box. I did the latter. =)
2. Let cake cool before thoroughly mixing in a 16 oz. can of cream cheese frosting.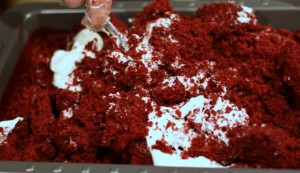 3. Form cake and cream cheese mixture into 1.25″-1.5″ balls and place on wax paper covered cookie sheet. You should be able to make anywhere from 40-60 balls. And wash your hands periodically as this can get real messy!
4. Put in fridge for a few hours or in freezer for 15 minutes.
5. While cake balls are chilling, melt colored candy melts in microwave. I melted mine in a bowl for 2 minutes total, at 30 second intervals and stirring in between.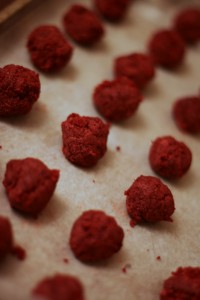 6. Dip cake balls in melted candy and coat thoroughly. I used a spoon to help roll the balls around.
7. Dip end of your lollipop stick in the melted chocolate. Let it dry right side up to ensure perfect roundness. (I made holes in the bottoms of an egg carton and let the cake pops sit there until dry.)
8. You are now ready to display your cake pops in whichever fashion you choose!